In this comprehensive suite of works by Jorge Caligiuri for this exhibition titled "In Between and Beyond", the artist explores dramatic and engaging compositions, detaching the image from the two-dimensional aspect of the wooden panel to create three-dimensional assemblages that draw the viewer into his world.
Jorge Caliguiri's works bring expressive fearlessness, revealing himself without question, taking mediums to the edge so that his work is a true representation of intrinsic and universal qualities yet transformed into a novel view of our world where the subject, the line, the color and the ideas evolve kaleidoscopically into vistas of future existence.
Curator: Alfredo Ratinoff
When:
Starting December 12, 2019
On view: Monday - Friday from 3 to 5 PM
Where:
Embassy of Argentina - Oval Room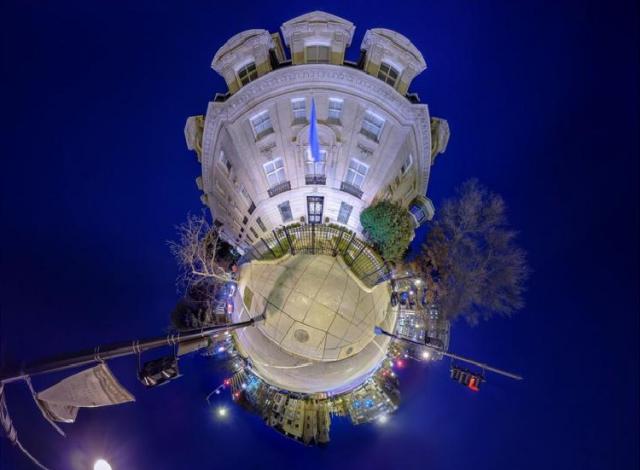 The Embassy of Argentina presents "From the Ordinary to the Extraordinary-Panoramic Photography", an exhibition by José Andrés Basbus in which "the viewers try to figure out what they're looking at, the place, and the angle the shot was taken". That is what directs Basbus every time he snaps the shutter button on his camera. He achieves this, in part, through the composition of his panoramic landscape postcards with an infrared effect.
Basbús, who has dedicated over 20 years to photography and is also a lawyer and a career diplomat, has a reflective view and a polysemic sensitivity that come as second nature. His striking photographs have been internationally acclaimed by nikonians.org, and the magazines "Photo Techniques" and "Outdoor Photographer". His work has been published in the book "Photoshop Restoration and Retouching", "PhotoTechniques Magazine" and "Viva Magazine", in Argentina.
When:
Starting November 1, 2019
On view: Monday - Friday from 3 to 5 PM
Where:
Embassy of Argentina - Malvinas Room