EDGES
Paintings and Collages by Florencia Gechter
2023/2024 Open Call Selection
Oval Room
The direct connection between my roles as a graphic designer and an artist is quite evident in the artwork.
In this project, I've ventured into the world of synthetic enamel. I'm presenting a more streamlined and less ornate facet of my work. The images have been generated as a simplified representation, drawing inspiration from various visual sources such as my own photos or creations by other artists. It's essentially a rapid creation, where I move forward instinctively and unconsciously, not always sure about what's coming next or how the enamel will behave. Some parts of the composition are driven by intuition, while others are not. This element of chance can be quite magical at times.
When I'm working with the chosen paper as my canvas, it feels like a comfortable fit. The essence of the artwork is built through the interaction with the found paper, pieces that often carry their own connotations, and therefore each new shape tells a story. The boldly colored silkscreened papers with their unique textures refer back to my days in manual graphic design, nowadays such paper is rare.
My goal is to convey a specific thought and emotion through the simplicity of my brushstroke.
About the artist
After graduating as a graphic designer from the University of Buenos Aires, Florencia Gechter initiated her training journey by joining the workshop led by María Luisa Manassero. She also pursued a range of courses that significantly contributed to her development at the Parsons School of Design in New York. In addition, she ventured into photoengraving at Lucrecia Urbano's Zona Imaginaria workshop, became a part of the School of Projects led by Laura Messing, and attended Projecto 8, overseen by Francisca Kweitel. In recent years, she has been actively participating in Sergio Bazán's workshop and art clinics.
Her exhibitions include a solo show at the Standard Bank Foundation titled "Urban Chronicles," and "Dos Caras" at Otto Galería. Her group exhibitions encompass "MAPA" at La Rural with Otto Galería, a summer collective exhibition in a small format at Otto Galería, "Arte en la Herencia," and "Unidos para Amar" at the Centro Cultural Recoleta.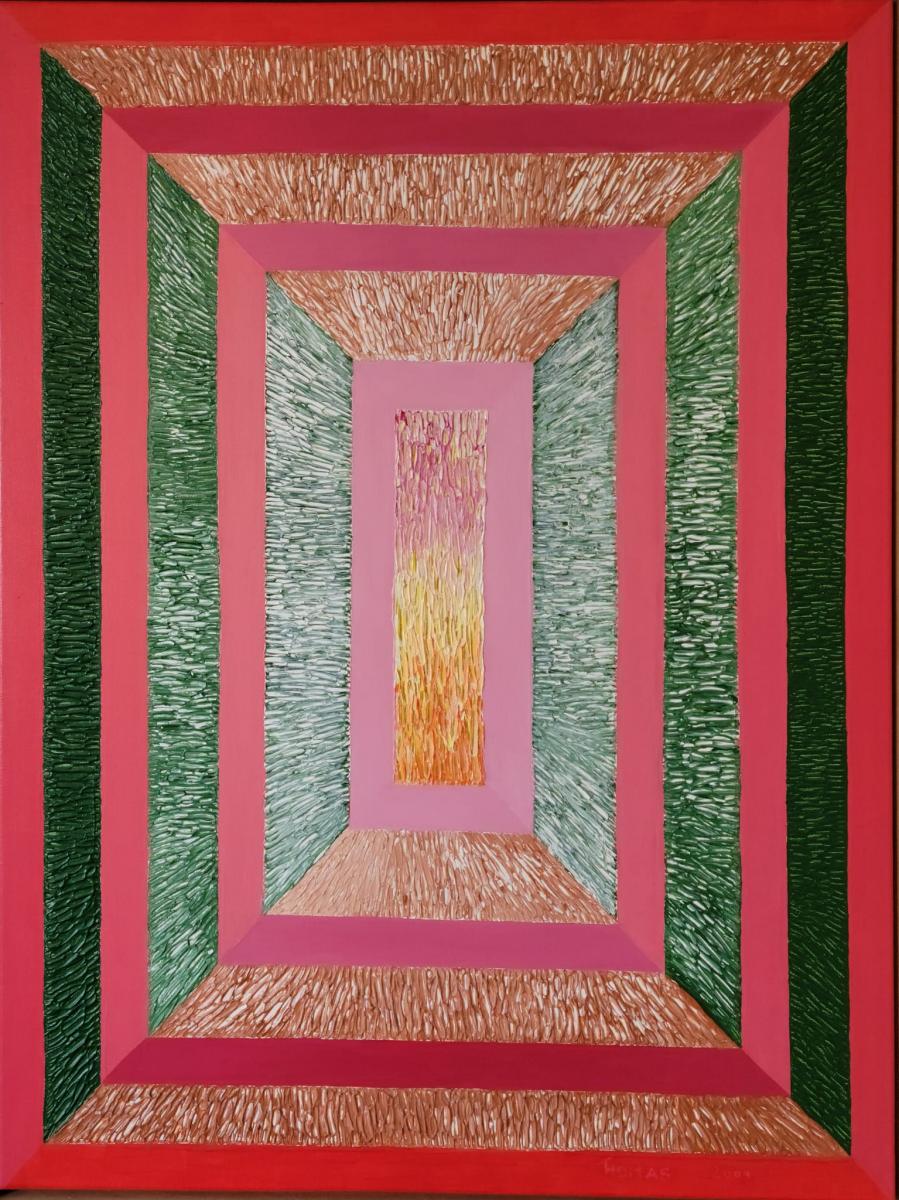 GIVE PEACE A CHANCE
Paintings by Thomas Francis
Opens Space invitation
Auditorio Malvinas
Peace is a state of tranquility and harmony. Nothing can bring you peace but yourself. Peace is not the absence of violence. It is a manifestation of human compassion. We need to seek and achieve peace within first.
Constant competition leads to conflicts. Nature has evolved and is in harmony. Humans are in the process, but at what cost? Color is a visual element that has the strongest effect on our emotions. I use this to create the mood and atmosphere of my artwork.
In this series, I have tried to express myself as to how we are moving away from Peace. We are all responsible for this.
About the Artist
Autodidact Artist was born in in Kerala, India, and naturalized as Argentinean citizen. His education was in Mumbai, India. After college he lived in Doha (1992); Dubai (1993-1994); Hong Kong (1994); Copenhagen (2003-2010); Delhi (2013-2019) and Buenos Aires (1994-2003 / 2011-2013 / 2019-2020). Since January 2021 he is living in Washington DC. His art works were exhibited in Copenhagen, Denmark, at Verdens Kultur Centre (2006) and Christian Dam Gallery (2007), as well in Buenos Aires, at Fundación City Bank (2011); Gallery Hoy en el Arte (2012); Art Restaurant Como en Casa (2013) among others.
In Delhi, India, his works were exhibited at Art Junction Gallery at Lalit Hotel (2015); Cervantes Spanish Institute (2016); Vernissage Art gallery (2018); India International Center IIC (2018) and in Mumbai, at Cosmic Heart Gallery (2018).
In 2022 he exhibited in New York at Cultural Center of the General Consulate of Argentina, and a year later, in Washington DC at aVENues of Connection Art Gallery.
When
Wednesday, November 15, 2023
From 6:00pm to 8:00pm
Where
Embassy of Argentina
1600 New Hampshire Ave. NW
Washington, DC 20009